<prev
next>

1.New Chairman Greeting: Our Mission is To Ensure "Safety and Sense of Security" for Consumers, and To Form "Sustainable Recycling Society."
Motoki Ozaki; President and Chief Executive Officer of Kao Corporation

S

ince I was elected to the 25th chairman of JSDA (Japan Soap & Detergent Association) in the 59th annual meeting, I have been strongly feeling, as a former chairman's successor, the heavy burden of chairman of the industry association, which has long-standing history and tradition. In order to successfully accomplish my duty I sincerely propose continuous support and encouragement for our activities to the JSDA members and those in all related organizations.



In such a tough situation that we faced the violent fluctuation of material cost and potential market recession, the total shipment of products in the industry in 2008 was 100 in index versus previous year on the volume basis and 100 on the yen basis. Though the severe business situation still continues in 2009, I expect each member company to make a further effort to reactivate the market, with which the business can be looking up.
Provided above as a background, there are many challenges which the industry association needs to handle appropriately. Among those, I'd like to express four challenges on which we should especially concentrate our effort.

First challenge is to ensure "Safety and Sense of Security" of our products for consumers.
As a user of various chemicals for our finished goods, we should put priority on the objective and scientific evaluation of their safety so that our products can be reliably used by consumers. On the other hand, we'll continuously provide strong support to our customers, who use our products as raw material, with sufficient safety data so that they can use our products with confidence.
We'll continue the fixed point measurement of surfactant concentration in the river that we have conducted since 1994. In addition, we'll continue our activity for GHS (Globally Harmonized System), the introduction of which is globally prepared. The project in JSDA was initiated last year in cooperation with METI (Ministry of Economy, Trade and Industry) and related organizations, in order to introduce GHS for improved chemical management system development.

Second challenge is an effort toward "Formation of Recycling Society."
Toward formation of recycling society, we'll make an effort to further reduce the emission of CO2, which is considered one of global warming gases, as a responsible member of the entire manufacturing industry. We will put our focus on; 1) resource savings and 2) the energy efficiency improvement by developing a new product with innovative technology and improving manufacturing process. In addition, we'll continue our effort to reduce the plastic usage in containers and packaging of our products as defined in JSDA's self-imposed action plan.

Third challenge is "Enlightenment and Spread Activities."
We'll continue our effort on the enlightenment and spread activity, in order to obtain fair evaluation and understanding of our products and activities. Specifically, we'll send scientifically correct knowledge of our products as well as the result of our activities through the homepage, the public relations magazine and the publications in academic society. In addition, we'll intensively send a message on the importance of washing-hands practice, sponsoring "Washing-hands Poster Contest" for children who bear the next generation.

Fourth challenge is to offer "Product with Additional Value of Use."
We'll continue to develop useful products with high performance that enrich consumer's life or are pleased by users.

We'll proactively work on these challenges in cooperation with related organizations. Our goal is for the industry association to establish useful and indispensable position in the market.
2. "Wash-Hands-For-Clean-Hands Poster Contest", Appealing Importance of Washing-hands Practice
In order to preserve the health of children who bear the next generation, JSDA had been carrying a few programs to arouse public attention to cleanliness of the whole society, as one of social contribution activities.


T

he programs till last year included; 1) "Earth PIKAPIKA Grand Prize" for the environmental beautification activity which was given to groups led mainly by elementary school children, and 2) "Washing-hands Sticker Contest" which was to collect designs from various elementary schools and distribute stickers with winning designs back to elementary schools in the country. These programs were concluded in 2008, and a new program,

"Wash-Hands-For-Clean-Hands Poster Contest"

, began this year for children in the elementary school or under.


W

inning posters will be then put on the homepage so that they can be used as a poster by downloading and printing at school or home. (http://kireinate.jp/)



3. Attract Children's Interest with Handmade Teaching Material; Actual Practices in Washing-hands Guidance and School Education
The education in childhood is important for establishing the custom of washing-hands in the daily life. This time, JSDA PR Committee members visited two schools to learn how the washing-hands practice is innovatively taught on the actual scene of education. Interviewed were;
- Tomoko Endo; Nourishment staff of Chiba Municipal School for challenged children*, Chiba prefecture
- Keiko Kobayashi; Chief nurse-teacher of Tokyo Meika Elementary School

* School for children with mental or physical disability, sickly children, etc. It provides each age group of normal kindergarten, elementary school, junior high school and high school with appropriate education, aiming at development of knowledge and skill necessary to overcome difficulty due to trouble.
Tomoko Endo;
Nourishment staff of Chiba Municipal School for challenged children
Keiko Kobayashi;
Chief nurse-teacher of Tokyo Meika Elementary School
●Washing-hands Education without Textbook
I

n many cases, the washing-hands education at school is in charge of the health/nursing section or the school lunch/nutrition education section in Japan. However, because there are no textbooks, some sections responsible for the education seems to be troubled with how to specifically teach children the washing-hands practice.


I

n fact, JSDA often receives an inquiry whether there is any good approach to teach the washing-hands practice and thus considers that there should be more teachers who have similar problems.


H

ere are two examples, of which the washing-hands education is promoted by using unique, handmade teaching materials.



Chiba Municipal School for challenged children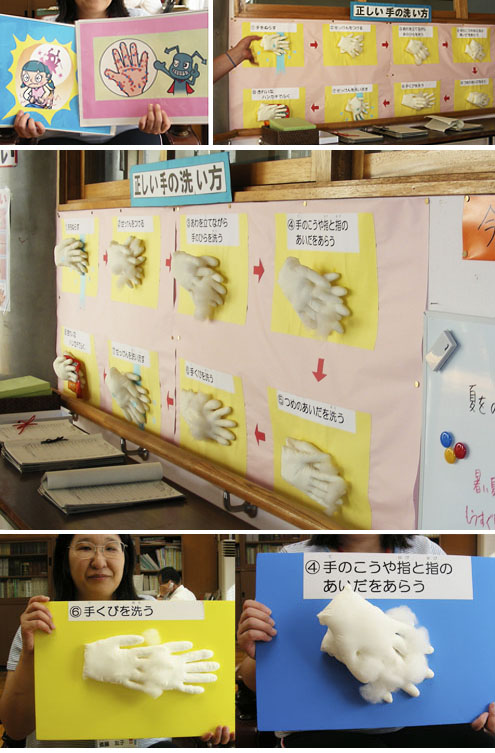 Tokyo Meika Elementary School
●Explaining Washing-hands Practice by Using 3-D Material
I

n Chiba Municipal School for challenged children, the washing-hands education is made by using a handmade bulletin board in order to draw children's attention. "It is difficult for us to make children understand and practice washing hands, since our school is a school to support children with intellectual disability", said Ms. Endo of the school.


S

he mentioned that it is difficult to teach children the washing-hands practice only with written material. Neither material explaining how to wash hands in figure nor simple oral guidance can attract children's interest. She then developed a bulletin board showing how to wash hands in a three-dimensional model, and hung it at the entrance of the dining room. Her attempt was to make the teaching material in a way which attracts children's interest and makes them wonder what that is. And, she put it in the place where children gather together at lunch time every day. Seeing it every day is important for children to establish the custom of washing-hands.


S

he also uses a flip-type handy material, which is designed to be used in the classroom. She said, something different generally arouses children's interest. Children touch it so eagerly that the material is frequently renewed.


M

aking the material three-dimensionally is an interesting idea. In the case of Chiba Municipal School, the hand in the teaching material is made from a vinyl glove for school lunch stuffed with cotton, and the bubbles from cotton. They are light enough to be attached on a cardboard.

●Innovative Way to Draw Children's Attention
T

he picture-story-show is also used in this school. She realized that listening attentively to the story and wondering "What on earth comes out?" was the first step for understanding and practicing of washing-hands. This picture-story-show can be played in any school. Pictures in the show are expansion copies of the material distributed by the prefecture, and the story is freely created along with the pictures.


I

n the case of Meika Elementary School, the washing-hands practice is shown on the bulletin board of the school nurse's office, on which colored papers cut into the shape of hand are arranged to show how to wash hands. Each step is also uniquely named to make children interested. Examples are; "Asking Wash" which means scrubbing with both hands, "Sliding Wash" which means washing back of the hand, etc. Ms. Kobayashi said that this was effective to attract children's interest and these new naming quickly penetrated into the school like password.

●Show How to Wash Hands First and then Let Children Follow
G

enerally things do not penetrate by just saying "Do it." It is important that a teacher shows how to do it and let children follow it. Actual experience deepens understanding.


C

hiba Municipal School for challenged children also considers that daily practice is important.


I

n this school, a kind of experiment is also revealed effective for children in the high school age group. The experiment conducted in this school is to apply fluorescent agent to hand and observe the residual fluorescent agent after washing. "They eagerly want to do the experiment, and at times they voluntarily count the washing time", said Ms. Endo.


S

uch an experiment using a kit is very much liked by children. In Meika Elementary School, there is a special class called "Cleanness Check of Circumference of Body" for the third grade children. The experiment in the class is designed to experience how dirty each part of the body is and understand what will come after washing. After experiencing the experiment, a lot of children write "It was enjoyable", and the comment often further extends to "I will wash using soap from now on," or "I will wash recalling today's learning about how to wash."

●Keep Focusing on Continuously Using Every Opportunity
O

nly by teaching in the class, however, it may be forgotten in a month or so because they are children.


I

n Meika Elementary School, the washing-hands practice is guided in the hygiene guidance meeting of each term, the whole school morning meeting and the whole school assembly. In addition, the school broadcast always calls for washing hands, aiming at complete establishment of the practice as a custom.


"I

t is also very effective to instruct how to wash hands at such occasions as school open day or class observation day for guardians. We need to keep concentrating our effort on the education, because the epidemic concern especially about a new flu is expected in the very near future", said Ms. Kobayashi.



T

he practice actually made in these two schools suggests that it is important for effective guidance 1) to make children recognize the necessity of washing-hands, and 2) to show the actual practice repeatedly in a comprehensible manner.