JSDA Profile

About JSDA
Overview
JSDA consists of manufacturers of soap and detergent as well as oil and fat.
Mission
To form a fair industry opinion on topics required for the healthy development of the fat-derived chemicals industry and detergent industry, strive for its realization, and in doing so contribute to increased stability of people's lives.
Founded
1950, Tokyo
Members
21 member companies and 47 associate companies. Member companies cover more than 90% of market share in cleaning products in Japan.
Organization
JSDA is organized as three category committees on detergents, soaps and oils and fats and eight standing committees. (See attached chart)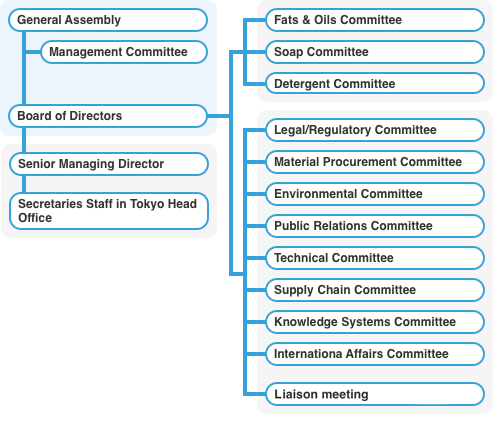 Role of JSDA
Support sustainable industrial activities related to fat-derived chemicals, soaps, and detergents
Form a fair industry opinion and submit it as needed
Strive to improve the lives of consumers and provide accurate and appropriate information
Share Japanese information, technology, and labeling overseas and improve hygiene, environment, and safety
Products
Finished cleaning products for consumers

Laundry detergent and soap, hard surface cleaners, hand/body soap

Fatty acid and glycerin